Car Accident with an Uber Eats Driver
In the past, food delivery was limited to a very few restaurants, mainly those serving pizza and Chinese. However, a recent surge in the gig economy has boosted app-based delivery companies, such as Uber Eats. These food delivery services allow a wide variety of restaurants to offer delivery to customers all over. This convenient delivery service involves drivers picking up meals at designated restaurants and delivering them directly to the customer's location.
While this may seem simple enough, it comes with the increased risk of getting into a car accident. These accidents are more complicated than the typical auto accident due to the many parties involved and having to identify who can be held liable for an auto accident with the Uber Eats driver. We sat down with our experienced Uber Eats accident lawyer, Laurence Banville, to discuss what to do after a car accident with an Uber Eats driver.
LE – What are the steps to take after an accident with an Uber Eats driver?
Laurence – Get medical attention for any injuries resulting from the accident. Your health and safety should be the top priority. The next step is to get the other driver's information, including the vehicle's information. If possible, take several photographs of the accident, accident scene, and any injuries. You can even try to get witness information as it may be beneficial in the future. Finally, get legal representation from a car accident lawyer experienced in Uber Eats accidents as soon as possible. Filing a claim with an app-based delivery company, like Uber Eats, can become complicated. It may be necessary for a lawyer to help determine who is liable after reviewing all the details of the accident.
LE – What if an Uber Eats driver is hit by another car?
Laurence – After an accident, it is essential to report the accident to Uber Eats. In order to be compensated for the medical treatment, you need to file an injury claim. However, there are requirements in order to file a claim with Uber Eats insurance. An experienced lawyer can help you understand this and increase your chances of a settlement. Drivers should document any details of the accident by taking photographs and are heavily encouraged to take a screenshot of their active delivery status on the Uber Eats app. The more information recorded, the stronger the claim and chances of securing compensation.
LE – Can an injured victim sue Uber Eats after an accident?
Laurence – Uber Eats does have an insurance policy that covers its drivers when actively making a delivery. They also cover third parties when their driver is at fault. Just like any other large insurance company, they will often try to refute any liability. This is why it becomes necessary to have a lawyer on your side to advocate and fight for the maximum settlement possible. Compensation can be used to cover:
Medical costs
Property damage
Lost income
Pain and suffering
Death benefits
Punitive damages
Justice for Uber Eats food delivery accidents.
Whether an Uber Eats delivery driver crashed into you, or if you were delivering for Uber Eats and another vehicle crashed into you, it is important to have an experienced Uber Eats accident lawyer on your side. Contact Legal Examiner today to schedule a free consultation with one of our partnering legal firms. Get the justice you deserve for an auto accident with Uber Eats.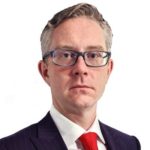 Mr. Banville is a personal injury attorney who has experience in handling auto accidents, work injuries, medical malpractice, dog bites, slip and falls, and representing survivors and victims of sexual abuse. Mr. Banville is affiliated with law firms in Pennsylvania, New York, New Jersey, Delaware, D.C., and Maryland. Justice Guardians