Marmion Academy Monk Arrested For Sexually Abusing Student
In September of 2021, a former student from the came forward with sex abuse allegations against the all-boys academy monk. The victim claimed the abuse began while a student at Marmion Academy, located at 1000 Butterfield Rd, Aurora, IL 60502. The 66-year-old Marmion Abbey monk, Joseph J. Charron, also known as Brother Andre, was identified as the abuser. Allegedly the victim detailed many instances of abuse during his tenure at the school but also revealed that it continued past his graduation.
The investigation included help from both Marmion Academy and Marmion Abbey, where Charron lived on the campus. After school administrators were informed of the claims, Charron was placed on administrative leave and forbidden from the school's campus and other ministerial activities. He turned himself in to the police on Wednesday, April 27, 2022. Police are still investigating to determine if there were any additional victims.
Charron is facing eight felony sexual abuse charges, including three charges of criminal sexual assault by force, three charges of aggravated criminal sexual abuse by a person in a position of authority of a victim under 18, and two charges of criminal sexual abuse for non-consensual sexual conduct.
About the Academy
Marmion Academy is a Catholic all-boys college preparatory high school established in 1934. According to their website, they cater to more than 40 towns within northern Illinois. Their main goal is to teach young men values and leadership skills while preparing them for further education. They boast that they offer their students a "stable climate where Christian values may flourish."
How Can Victims of School Sex Abuse Seek Justice?
When a victim is sexually abused at a school, they need to know that their abuser should be held accountable. We recently sat down with Illinois sex abuse attorney Brian Kent to learn more about the legal options available for victims of school sex abuse.
Laurence: Why are we seeing more reports of sexual abuse at schools?
Brian: The numbers are increasing across the country. Many times sexual predators will try to gain positions within schools, even religious schools, to gain access to children. Teaching positions afford them the power and trust over the vulnerable victims. Parents trust that the staff at the schools are trustworthy and that the campus is safe.
Laurence: When can a school be held accountable for school sex abuse?
Brian: Schools and religious institutions have made a commitment to provide a safe learning environment for their students. They are legally responsible for offering a level of security precautions to prevent not only physical dangers but sex abuse as well. Security monitoring cameras and patrolling security guards are just a couple of ways to reduce the risks on the campus. However, it is necessary that all school employees undergo an extensive background check. When school administration fails to take their campus safety seriously or neglects reports of abuse, they could be held liable.
Laurence: How long do victims have to file a lawsuit for sexual abuse?
Brian: Each state's statute of limitations for school sex abuse varies. It is important that victims understand that if these deadlines expire, they may not be able to file a lawsuit. Illinois has a relatively lengthy statute of limitations for child sexual abuse civil cases. Basically, victims of child sex abuse can file a claim as many as twenty years from the date of their eighteenth birthday or the date they discovered they were abused as a child. However, there may be exemptions to these rules. Victims abused by a teacher should always consult with an experienced sex abuse attorney to learn their legal rights.
Laurence: How can victims and their families get the justice they deserve?
Brian: Regardless of the time that has passed since the abuse, victims of child sex abuse are encouraged to speak with a sex abuse attorney in their state to explore their legal options. When a criminal case is filed, the direct perpetrator will be investigated and sentenced accordingly. However, many times this does not entitle the victim to the compensation they may need to cover their expenses, such as therapy.  Victims may be able to file a civil lawsuit against their abuser or a third party, such as the school, which allowed the abuse to continue. By filing a civil suit, victims can get the compensation they deserve. These laws can be complex, so it's important to discuss their case with an experienced school sex abuse lawyer.
Sources: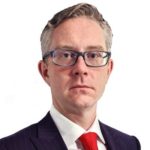 Mr. Banville is a personal injury attorney who has experience in handling auto accidents, work injuries, medical malpractice, dog bites, slip and falls, and representing survivors and victims of sexual abuse. Mr. Banville is affiliated with law firms in Pennsylvania, New York, New Jersey, Delaware, D.C., and Maryland. Justice Guardians